DCIM
is an abbreviation for
Digital Camera · Imaging · Media
This event is actually a new event and planned (hopefully) to be held on a yearly basis. Well it's basically a "camera fair" with
models
and
catwalk
shows.
The size of this event is actually quite small, even smaller than
my college
's Career Fair...
The participating brands are not massive too, I only see
Canon
and
Nikon
, I couldn't find
Sony
,
Olympus
and such, even the big 3rd party photography gears manufacturers like
Tamron
and
Sigma
are not showing themselves too. A bit of disappointment here though.
I arrived around 1pm, hoping to shoot some models, but what I see is a bunch of enthusiastic photographers with some nice gears and
ladder
, yes, a ladder:
How am I supposed to get a clear shot? Well thanks to my
Canon EOS 1000D
with
Live View
function! Almost all shots are done through Live View. Who said Live View is useless eh?
Basically what I do is just enable the Live View, put my camera as high as possible and snap.
Its not easy to keep your hand steady in that situation: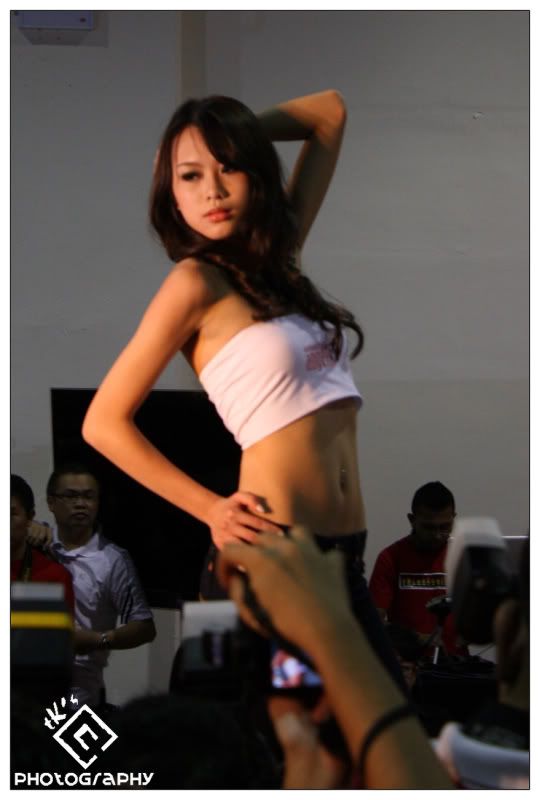 (Blurred =( , but I like this shot actually)
(at 55mm, f/5.6, 1/50s, ISO 800)
(at 55mm, f/5.6, 1/50s, ISO 800)
(All model images has been
cropped
, my 18-55mm kit lens is not sufficient for such event obviously)
"Crew: Sir, no entry! Guy: Huh?!"
Due to difficulties of photographing the models, I did not follow the event til the end. I ended up buying a
tripod
(which I needed) instead. Details of the tripod will be posted soon.