Panning
is another major area in
Photography
. Panning is usually found in
sports
,
wildlife
and pets photography (i.e:
F1 Race
,
Leopard
chasing a
Gazelle
or even your pet dog running).
This technique is done by moving your camera horizontally while taking pictures (moving when
shutter
is opening). The essence of panning is: sharp object (with bluring wheels, legs etc) with blurring background. This brings out the sense of "motion" in the photograph. This is a lot better than using a fast shutter speed and freeze your moving objects.
This is my first try on panning:
All shots are using my
Canon EOS 1000D
+
EF-S 18-55mm
kit lens.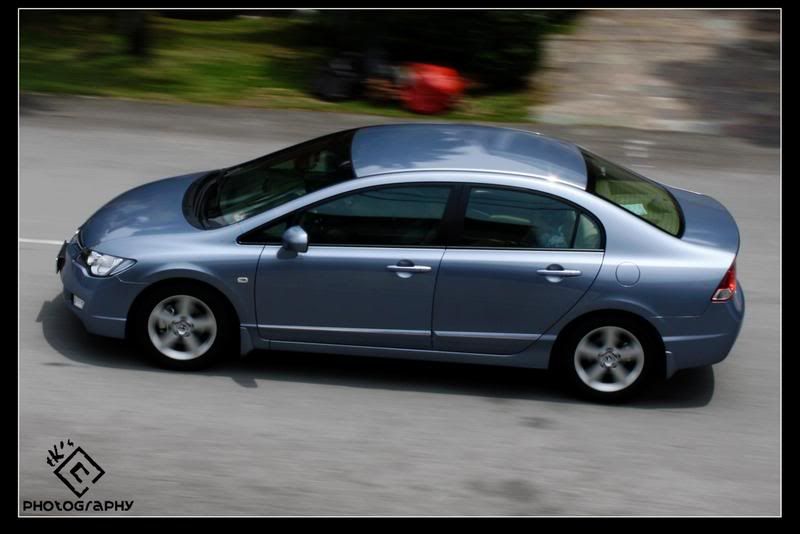 (
Aperture Priority
+
AI Servo
at 34mm, 1/80s, f/18,
ISO
100,
AWB
)
(Aperture Priority + AI Servo at 34mm, 1/80s, f/16, ISO 100, AWB)
(Aperture Priority + AI Servo at 40mm, 1/30s, f/18, ISO 100, AWB)
This are the 3 sharpest shots amongst the 44 shots I have taken. (Yes, 3 out of 44).
This shows how hard panning is, it does requires a lot of practice. Even these 3 shots aren't very sharp compared to other people.
Panning is usually done at relatively slow
shutter speed
compared to normal circumstances. You can note that the shutter speeds are relatively slow (1/60s and 1/30s).
AI Servo is used to enable its continuous
focusing
and tracking (Although kit lens's focusing is not as fast as Canon's top notch
USM
and 1000D's focusing speed and
fps
is slower than others like
5D Mk II
).
Welcome to the world of photography.