After some "asking-arounds", I have finally decided to get
Uniross
2700
mAh
NiMh
AA
Rechargeable Battery
.
Since it is
KLPF
(
Kuala Lumpur
Photography Festival) today, and my friend works there, I have decided to pay them a visit and trying to get my battery as well.
That place is crowded (expected) as
photogs
are busying taking photos of the
models
over there. I did not even take out my camera during the whole period. Snapping pictures of hot models in Fairs (say PC Fair / Automotive Fair or whatever Fair), is just not something I would do (don't ask me why).
I personally feel nothing special on these kind of Fairs because some of the items sold are actually quite pricey and no where cheaper than retailing price outside.
This is what I bought: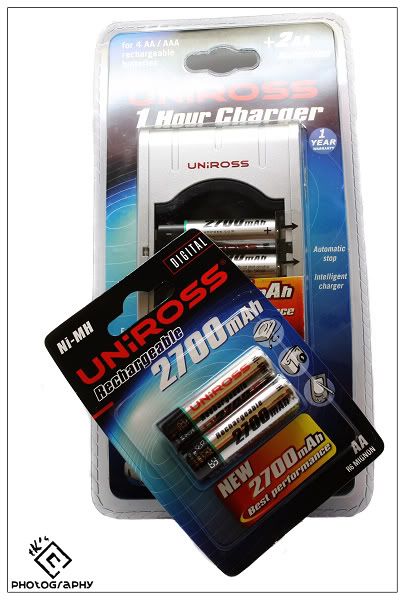 The 4 x AA + Charger Pack is sold off! So I have no choice to take 2 x AA + Charger & Another 2 x AA Pack. However, the guy at the booth told me it is cheaper because they are giving substantial discounts (I doubt that).
Price:
RM 128 + RM45
Discount:
RM 18
Net:
RM 115 + RM40
Total spending to date:
RM 4,702.75