This was an unexpected trip for me. I was informed on Thursday evening by
Phili
p
. And I confirmed the trip on Friday morning. It was a 3-day 2-night trip to
Endau Rompin (ER) National Park (Kg. Peta)
in
Johor
. ER is the 2nd
national park
gazetted by the Government of
Malaysia
and its the 2nd largest national park in Malaysia. Person who come along are
liewwk
,
Jason
,
Andy
& his girlfriend
Maureen
and off course Philip himself.
We departed from KL around 5:15am in the morning and we arrived in
Kluan
g
around 8:30am. After some simple breakfast, we continue our journey to
Kahang
and register ourselves at the Johor National Park Corp. (JNPC) office and wait for the
4x4
to fetch us into the jungle.
After an hour or two of bumpy ride, we finally reached our resting place around 11:30am. It looked like a holiday
chalet
instead of a jungle camp (well, I was expecting to
camp
). However we did not take the chalet because it is quite expensive, we stayed in the
dormitory
(hostel) which can fit 30+ person. However, we were the only guests in the dorm for both nights.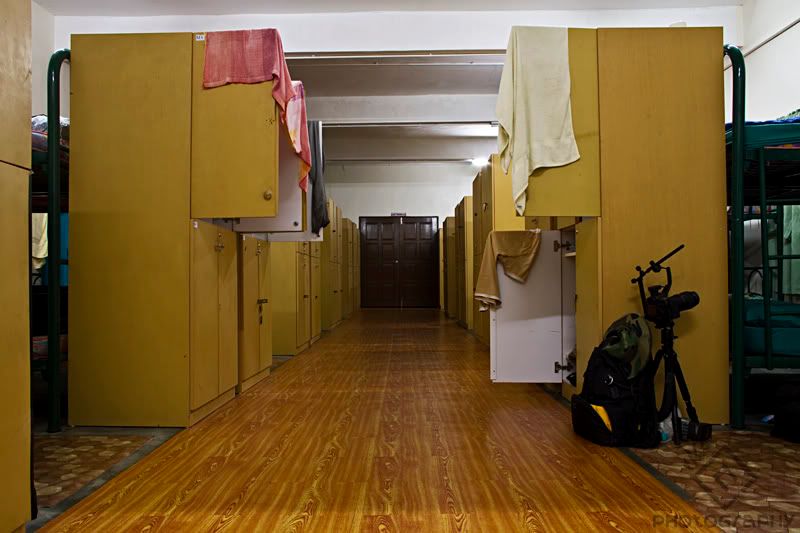 After some lunch, without wasting any time, we started our 1st
macro
session. However the timing seems to be wrong, perhaps due to raining season. We can hardly find any bugs. We cant even spot a single bug on a tree trunk (which is very unusual for a jungle area). So you can totally forget about exotic & rare bugs.
We ended our first macro session around 5:30pm because we can hardly find any interesting subject to shoot. We are saving our energy for our next macro session (night macro).
We started our night macro around 8:30pm. Liew said he saw some Blue-eyed
Cuckoo Bee
in the afternoon and he brought us to their possible resting ground. This was my first night macro experience and I instantly found out that my lighting gear is insufficient for night macro. My
torch
is too dim to find any bugs. However, this night macro session was a disappointment as we could not find the bee and we only managed to find some
weevil
,
shield bug
and
toads
.
We ended our first night around 11:30pm and we are resting for the next day.
===== Day 2 =====
The 2nd day was a tough day. We decided to go for a 45 mins
boat ride
and proceed to a
waterfall
named Upih Guling (I do not understand the word "Upih" but Guling literally means "Rolling"). I have learned a lesson here: Never believe what the
Orang Asli
(
Indigenous People/Aborigines
) said in terms of distance and
ETA
. I was told that it is only 1 and a half hour trek to reach the waterfall, but in fact, it took us almost 2 and a half hour to reach.
The Orang Asli need no rest and they can continue to trek the jungle for whole day. The city-people like us are totally exhausted when we finally arrived the waterfall.
The waterfall is famous for the unique shapes of the rocks and
pothole
, due to swirling water that erodes the rock in over thousands of years.
There is another beautiful lake nearby which is called Tasik Air Biru, literally means Blue Water
Lake
. However, we were too exhausted to visit the place and we head straight back to our dorm. It was another gruesome 2 hours trek and we finally reached our dorm around 3:00pm.
After taking some rest, we decided to give another try for night macro. It seems that luck is not on our side as it started to rain after 30 mins we went into the jungle. Another worthless night.
We went to bed quite early (9:45pm) as there are nothing much activity we can do.
===== Day 3 =====
This morning we decided to go for a jungle walk/trek in a trail called Pantai Burung Trail, literally means Bird Beach Trail.
We were supposed to follow the jungle trail which is only 30 mins walk. However it rained so heavily last night, many of the trees has actually collapsed and blocking our road. We have no choice to get out of the trek and use the main road instead (which is a solid
tarmac
road). We finally reached the so called Bird Beach (it is actually a
point bar
, with beach-like sand, thus the name). The scenery there was not too bad, and Liew even located the
Polar Star
's location and keep it as a record for future star trail photography usage.
We are leaving this place around 11am, so without wasting much time, we head back to our dorm and took a bath and start to pack our stuffs. We departed the place around 11am and reached Kahang around 2:00pm. After having a lunch at Kahang, we continued our journey home as the next day is working day. Back to urban life.